Nursing and Care eLearning Supplier Comparison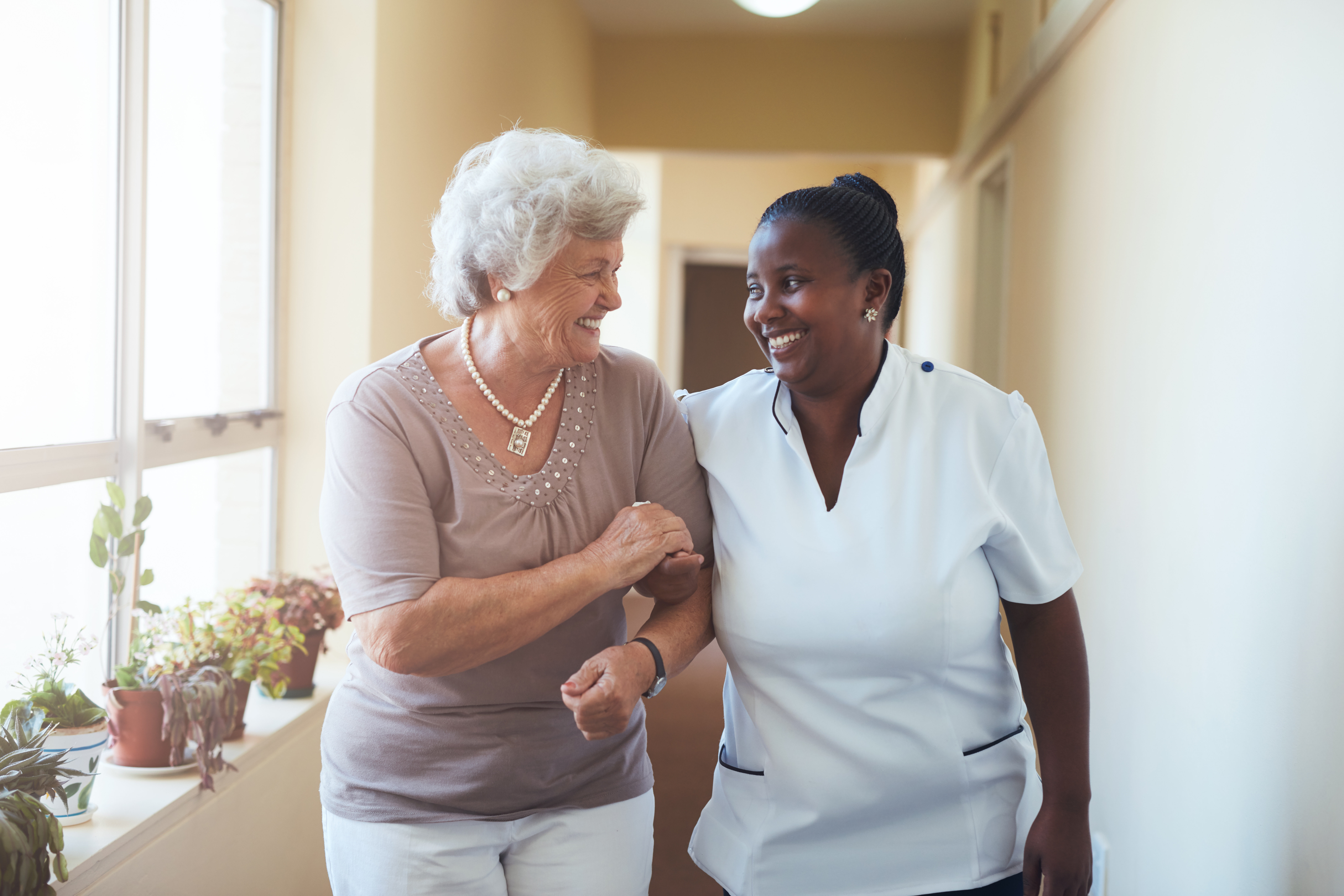 How much do you know about Blue Stream Academy?
As the leading provider of eLearning in health and care, it's safe to say we've got your compliance needs covered.
Our system is proud to host 5 sector-specific eLearning Suites, covering everything from General Practice to Hospice Care and Aesthetics to Urgent & Tailored Care. Today, we're shining a spotlight on our Nursing and Care eLearning suite, supporting Nursing and Domiciliary Care staff across the UK.
Since our Nursing and Care eLearning Suite launched in 2015, our team of in-house content specialists have released over 110 CPD-certified eLearning modules, the Care Certificate solution, and in 2021, the RESTORE2minieLearning module (available free of charge for all carers in the UK).
Our mission here at Blue Stream Academy is to assist with the delivery of the highest quality of patient care through better staff education, experience, and development, ensuring your organisation is always up to date with their training and remain CQC compliant.
What does Blue Stream Academy offer?
Alongside our eLearning and management platform, Blue Stream Academy also provide a multitude of services to streamline your organisation's training, HR, and compliance requirements.
We decided to put our platform to the test, comparing it against three alternative Nursing and Care specific suppliers…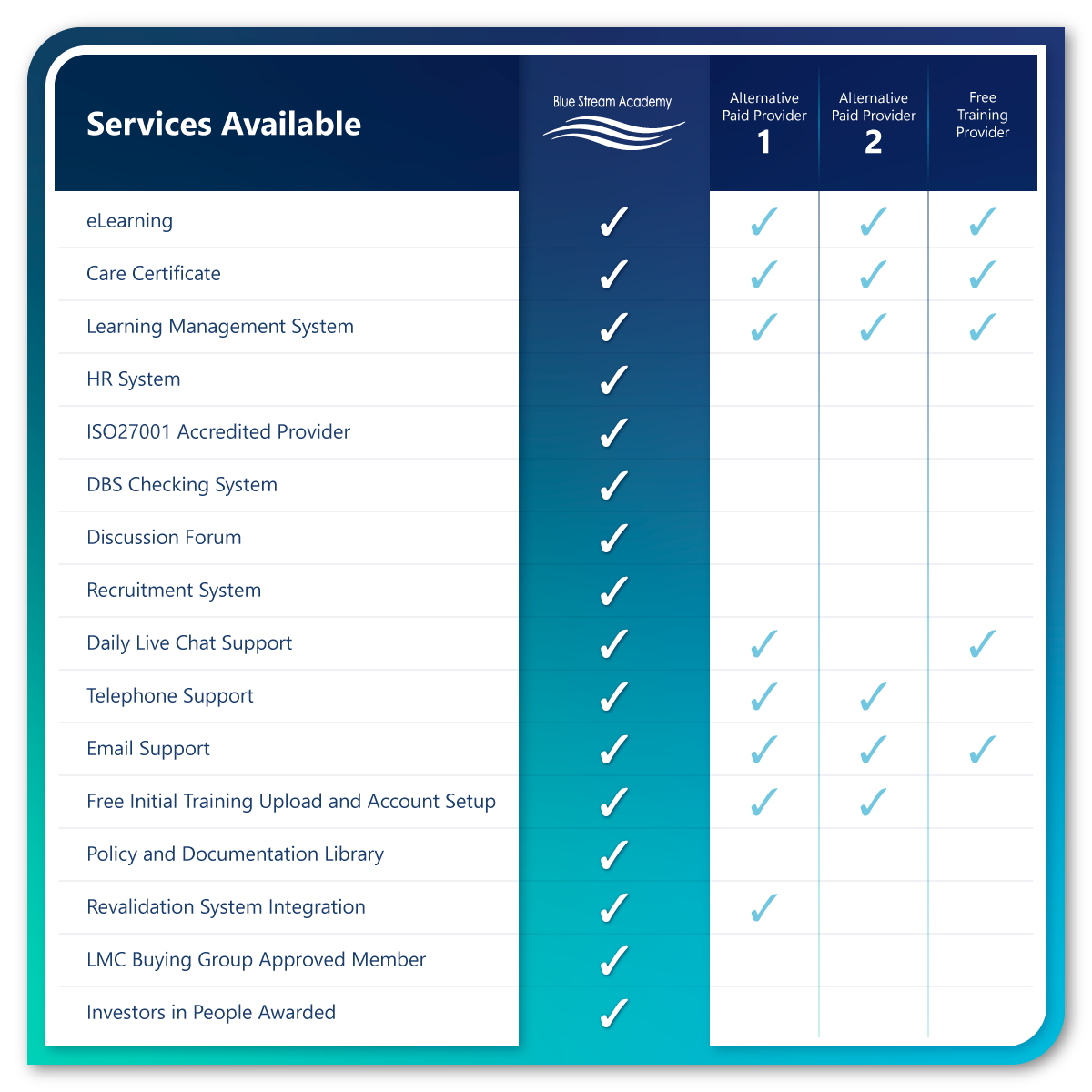 With eight exclusive features, and tonnes of value for money, it's clear to see that Blue Stream Academy provides a complete eLearning and management platform, suitable for any Nursing and Care Home, no matter how big or small.
Don't just take our word for it!
See how our customers are finding their experience for yourself…
"I was first introduced to Blue Stream when attending an exhibition at Exeter. Signing up was the best thing I did for our business and affordable too. The site is easy to navigate and training easy to access. Training is updated as and when legislation or best practice changes, which means that is one less burden that I need to worry about as a manager. Staff get e-mail notifications when a training module is due for renewal, making them self-sufficient. I can monitor their progress without the need to chase down individual employees, so I can get on with other things. Uploading policies to the library is great and there is the ability to link the policy to training modules. External training can also be added to keep all your training information in one place. Love Blue Stream and would not be without it."
Sam Martin, Home Manager, Somerville House Residential Home
"Best Training Academy for our Residential Care Home"
We are a small Residential Care Home company with under ten employees, with each person having their own training needs. We wanted a training provider that would fit into our ethos and culture and have a great dashboard area with easy-to-understand processes. We found this with Blue Stream Academy. There set up and system is easy to use. Help is at hand when needed and you can add in your own tailor-made documents that will provide a compliance report. What is not to love! Blue Training Academy has been great. They are accommodating to our needs and budget, while also doing a great job. Right away, having online training to hand and set up was a load off our minds. We've been a customer for a short time but can see the benefits and our productivity and showcasing of training is much better, our stress is lower, and our staff are happier ever since we started working with Blue Stream Academy. I would definitely recommend them. "
Theresa Armstrong, Director, Tailored Care & Nurture Ltd
If you're looking for a one-stop shop to store, monitor, train, and manage your team, with your organisation's own Account Manager, and a team of system-support specialists on hand, then you're in the right place.
What are you waiting for? Start your journey today by getting in touch with our Nursing and Care Account Manager at nch@bluestreamacademy.com for a 30-day free trial or no obligation quote.
Want to find out more? Click
here
to find out more about how we can power your workforce.
---