National Apprenticeship Week 2023 – Where are they now?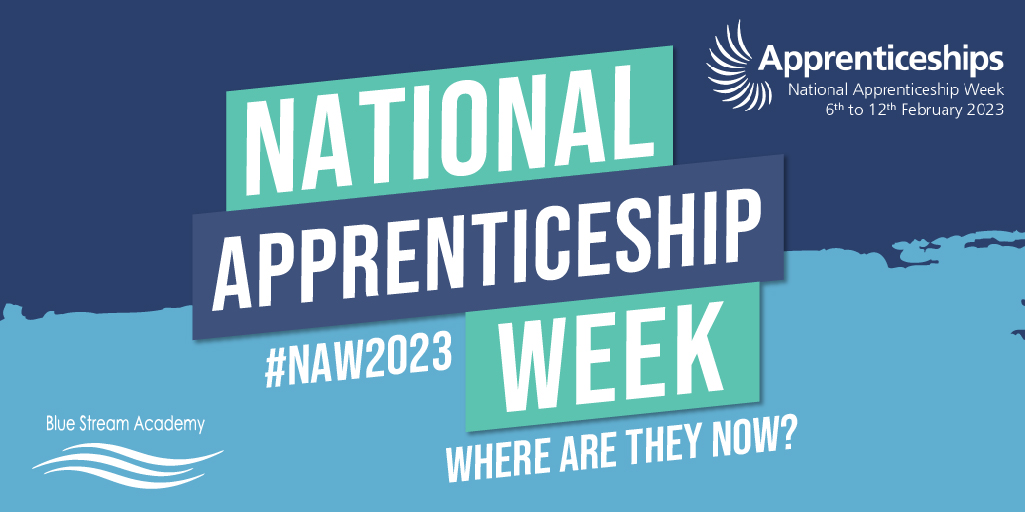 As we continue our
National Apprenticeship
Celebrations here at BSA HQ, we thought we'd take the time to chat with some members of Team BSA who started out their careers with an apprenticeship and see where those skills have come in handy for them today!
Introducing Alex, Abi, Jordan, and Beth…
Hi team! What is your current job role and how long have you been a part of Team BSA?
Alex: I've been a part of Team BSA for 9 years now and I am a Senior Software Developer.
Abi: I'm Blue Stream Academy's Events and Marketing Manager and I have been part of the team for 8 years!
Jordan: I've worked at Blue Stream for just over 3 years and I'm a Junior Software Developer.
Beth: I'm also a Junior Software Developer and have been with Blue Stream Academy for over 2 years.
Which apprenticeship did you complete?
Alex: I completed a Customer Services Level 2 NVQ.
Jordan and Beth: We both completed the Level 3 IT Software Development Technician apprenticeship!
Abi: I completed a Pearson NQP in Business Administration (Level 3) back in 2015.
What was it that encouraged you to do an apprenticeship rather than an alternative form of education?
Beth: I completed an apprenticeship because I thought it would be more beneficial to gain hands-on experience rather than attending another form of education.
Alex: After sixth form I was unsure what I would have studied at university or which one I could have gone to. I did not really have any idea what area I wanted to find a job in either. An apprenticeship seemed a great way to get work experience, learn useful skills and receive pay while doing so.
Jordan: Completing an apprenticeship was more direct to my career path than going to college or Sixth Form!
Abi: I decided to complete an apprenticeship as I wasn't sure what career path I wanted to go down, and an apprenticeship provided the perfect opportunity to gain a wider understanding of the workplace and experience or learn more about the different business professions and roles available.
Did you start your apprenticeship straight from school?
Jordan: No, I originally went to college to do my A-Levels but realised it wasn't for me so I left and started my apprenticeship.
Beth: I went to college and completed my A-Levels prior to starting my apprenticeship.
Abi: Yes, I started my apprenticeship straight after sixth form. My friends were heading off to university, however, I wasn't sure what I wanted to study so opted for the apprenticeship route.
Alex: I finished my A Level exams in the June and began looking for an apprenticeship. It took five months of open days and interviews until I found Blue Stream and started in the November.
How did you hear about the opportunity for your apprenticeship?
Abi: I heard about apprenticeships through the government apprenticeship website and having met careers and education providers during my school years. There are plenty of resources out there to preview the different apprenticeships on offer, and there are lots of FAQs to support you whilst deciding if an apprenticeship is the right route for you.
Alex: I regularly checked the Government apprenticeship website for vacancies and luckily came across Blue Stream!
Jordan: I spoke with career advisors at my college, and they told me about apprenticeships and how to find them online.
Beth: I found that Blue Stream were advertising for my apprenticeship on Indeed!
Thank you for your time team!
Want to find out more about how our apprentices have developed their skills into their professional roles?
Keep your eyes peeled for the final instalment to our National Apprenticeship week series!
---