LMC Buying Group Discount - Terms and Conditions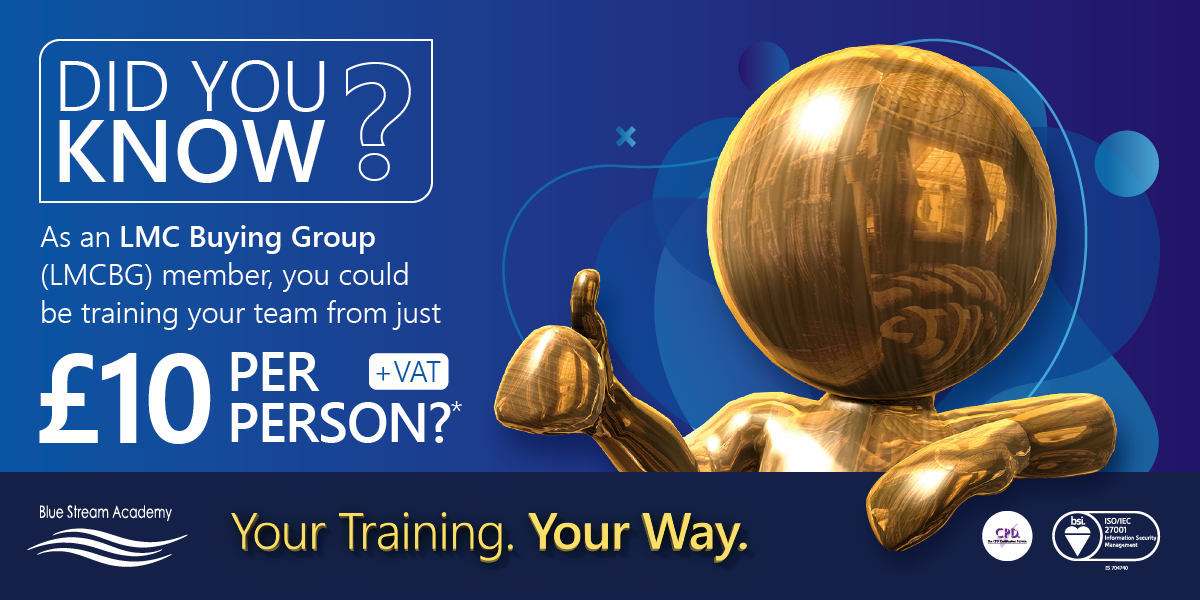 Blue Stream Academy (BSA) is the leading provider of eLearning to GP practices throughout the UK, supporting over a 1/4 of a million trainees at over 5,000 organisations.
With over 120 CPD-certified eLearning modules, available from as little as 50p per module for LMCBG members, what's not to love?
What makes BSA different?
With over 25 years of experience, BSA has developed a platform with the help of Practice Managers, specifically for General Practice.
We understand the importance of high-quality, cost-effective management solutions, with 5* service support to optimise this toolkit for all practice staff. Team BSA prioritises satisfaction and high standards throughout everything that they do - don't just take our word for it, check out what David, Practice Manager at River Place Group Practice, said about his experience below:
"I manage a GP practice with 30 staff. We have used Blue Stream Academy for all our online training needs for all staff for five years now. The training is excellent, the software is quite straightforward to use, the reporting tools are very useful and any queries are dealt with promptly and efficiently by the support staff. I would definitely recommend to any GP practice, PCN or Federation."
So, what gives Blue Stream Academy the edge?
Where do we start? From BSA's extensive eLearning library to their automated management options, there's something for everyone!
GP teams across the country love BSA's training flexibility - access any module, anytime, anywhere with an internet connection.
Terms and conditions apply:
LMC Buying Group (LMCBG) Discount available for LMCBG members only.
Base rate of £360 + VAT (including LMC Buying Group Discount) applies
£10 + VAT pricing based on the LMCBG base rate of £360 + VAT, with a userbase of 35 staff members, inclusive of Blue Stream Academy's renewal loyalty bonus,totalling at £9.25 +VAT per person.
Not available with any other promotional sales offer.
Information correct as of the 16th of December 2022.
---