BSA Today Issue 14 - Out Now!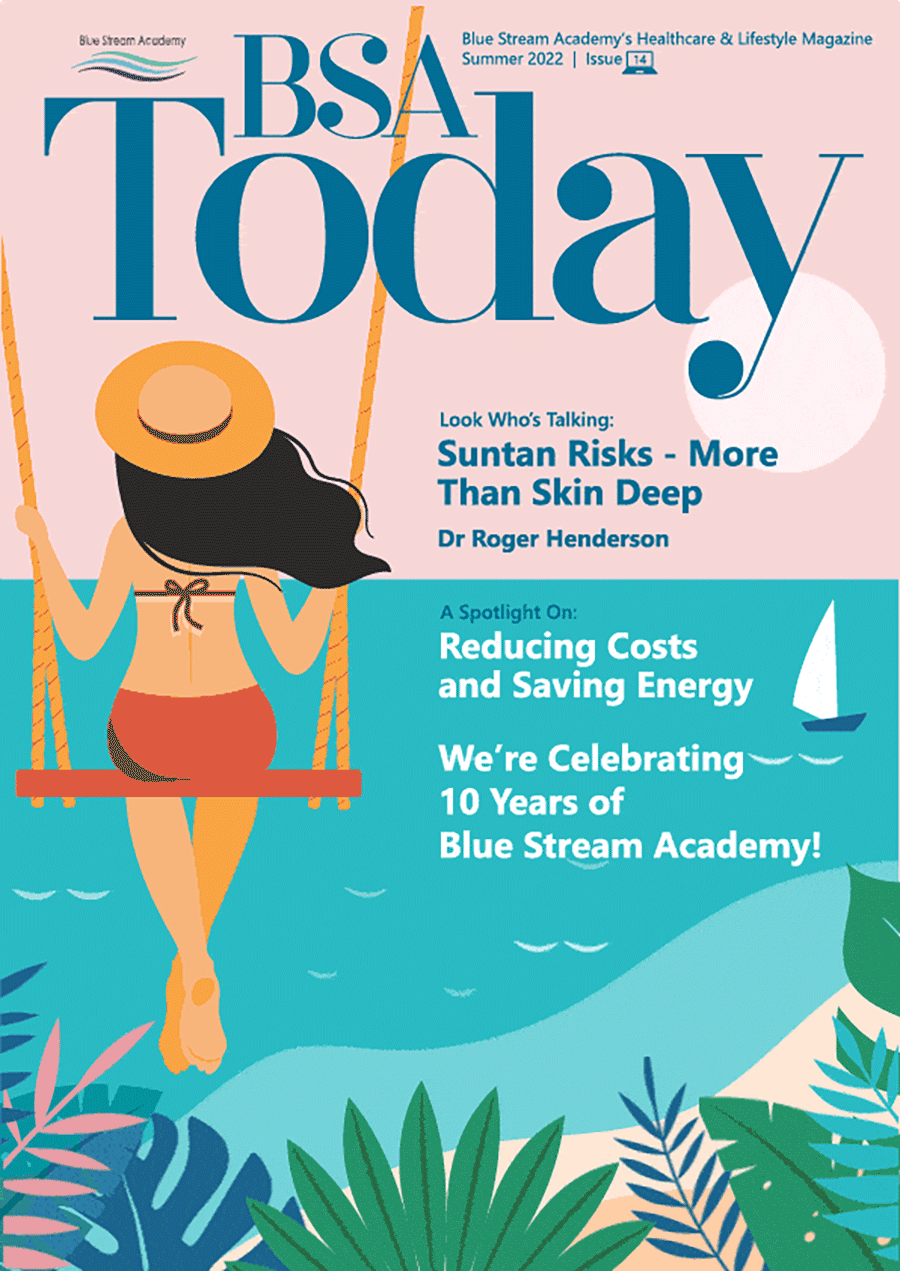 The fourteenth issue of BSA Today is now live!
Click
here
to take a look inside!
Are you sitting comfortably?
Did you know that thirty minutes of exercise won't counteract the health side effects of sitting all day; but adding light movement can help to counteract these and improve your overall health? With some sources claiming that sitting down all day is as bad for us as smoking, you won't want to miss this one! See
page 6
for the full details.
We're Celebrating 10 Years of Blue Stream Academy!
Over a quarter of a million trainees now use Blue Stream Academy's training and management solutions nationwide. Join us on a trip down memory lane to see how it all began, as we look at some of our key milestones over the past 10 years. See
page 9
for the full details.
Look Who's Talking – Dr. Roger Henderson.
As summer begins, Dr. Henderson talks about the dangers of tanning pills and injections and debunks the myth that sun-free ways of tanning are risk-free. See
page 13
to find out more.
A Spotlight On...Reducing Costs and Saving Energy.
We look at the progress the NHS is making towards achieving net-zero, shining the spotlight on how one hospital trust has cut carbon emissions while improving experiences for patients. See
page 18
for the full article.
Actions to Take When the Cyber Threat is Heightened.
Following Russia's invasion of Ukraine, the National Cyber Security Centre (NCSC) is calling on UK organisations to strengthen their online defences. Here, we look at the NCSC's guidance on steps your organisation should take. See
page 21
to find out more.
Caring for Carers.
A firm favourite with our readers, Dr. Marie Anne Essam shares a passionate and personal article exclusively with BSA Today. Using her insight as a GP, Dr. Essam talks about the need to recognise the pivotal role that carers play in patient wellbeing. See
page 29
to read the full story.
The Importance of Hydration.
With the summer heat comes an endless thirst to quench, and it's no secret that the human body depends on water to survive. Medical writer and emergency nurse, Bethany Cooper, explains why good hydration is one of the most important aspects of our diet. See
page 34
for the full article.
Great Food with Two Greedy Gals!
Instagram's Two Greedy Gals are back with some sensational summertime treats that they've created exclusively for BSA Today. Check out their green pesto pasta salad, big green sandwich, and refreshing peach and raspberry iced tea –⁠ delicious! See
page 39
to read the full story.
Don't forget, you can catch-up on our previous issues by visiting our
Issuu Profile.
Keep an eye on our social media pages and join the conversation; remember to use the #BSAToday tag to get involved!
Happy reading!

---